The
JUDGEment
was amongst many other outlets and frustrated disabled travelers who outpoured their disbelief in the fact that the BBC's Top Gear presenters Jeremy Clarkson and James May parked their electric cars in disabled parking bays whilst filming a segment for the popular Sunday night BBC2 programme.
The Disabled Motorists Federation and
Disabled Motoring UK
were some of the biggest organisations to publicly judge Top Gear on their production choices. "By parking in a disabled bay it appeared Jeremy and James were condoning this antisocial behaviour and as some members put it – encouraging other selfish people to do the same" (Disabled Motoring UK).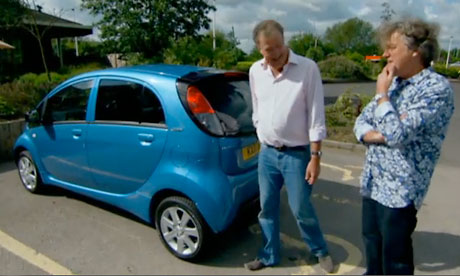 'May ponders whether parking there was such a good idea?' - Photograph: BBC
The
Guardian
and
Daily Telegraph
were quick to jump on the story and highlight this blatant encouragement in an action which prevents so many people from going on about their day. Unfortunately, I do have to suspect whether this story would have received such increased media coverage if it were not for us being in the 'silly season' where media outlets try and stay hydrated in a drought of news that is deemed publicly interesting.
Nevertheless, the BBC were quick to respond, stating that they had permission from the owner of the c
ar park and that it was purely a production team decision and not one made by the two presenters.
Andy Wilman, Executive Producer of Top Gear said "
This was our fault, not theirs, and we unreservedly apologise to all the viewer's we have upset as a consequence". Question will be whether they apologise in next week's episode and try to educate their young and male demographics that parking in these spaces may save you a bit of time, but can create a lot of hassle for those who can't park in the standard width parking bays which are too narrow to extend doors enough to use wheelchairs and other mobility aids.
Top Gear has always be known since its reincarnation to be a volatile and boundary testing programme but it now needs to decide on which boundaries are not to be crossed and I think the encouragement of using disabled parking bays, when you don't have a blue badge is one of them!